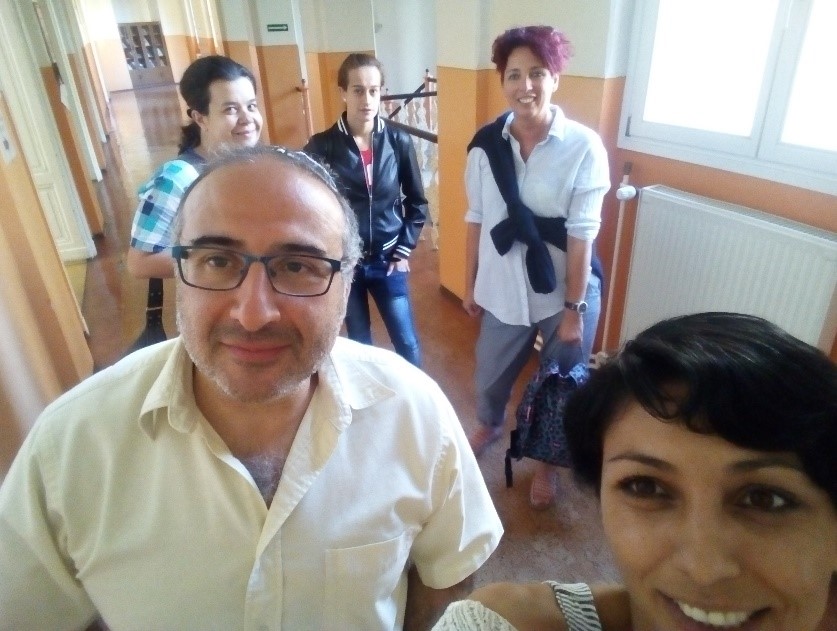 We have received an invitation from Zoltán Háberman, head of the National Rabbinical - Jewish University's Department of Social Work and Social Sciences on the 10th of October in 2018. The president of the foundation, Kriszta Bódis and employee Kriszta Váradi held a presentation about the You Belong! Studios. The goal of the presentation was to recruit young university students to volunteer. We are constantly in search of enthusiastic people who help our pupils in homework and preparation for exams after school.
We are counting on their volunteers in the organisation and realisation of recreational programs.
We provide a great place for internship and training for university students.
We saw that the students showed great interest in the Studio Plus.
What do you think Zoli, why is the work of the You Belong! - You Belong! important?
It was a great honor to host Kriszta Bódis, because I find the role of the foundation very important and niche. Kriszta Bódis is an exceptional presenter and a very charismatic person. She captivated the university students. Of course, the attractive personality and the exciting stories that we've heard wouldn't have been enough. The presentation was very exciting and moving because she talked honestly about the challenges and the hardships too. The bettering of society and getting the discriminated people to a better standing are goals that bring the VH foundation to a common ground with the Jewish University. Our university would also like to fight against exclusion and social injustices by means of giving knowledge and teaching people who can think critically. We would like to train social workers that are able to recognize the reasons that make people marginalized by society, but are also able to do and make a change. Kriszta Bódis can be a role model to social work majors. That's why I was happy that she came and held the presentation because her own life is an example that we are able to make societal changes. I was glad that VH employs such good professionals, like Kriszta Váradi, who are able to create value in a authentic and professionally prepared way. Another interesting thing in the high quality presentation was that the foundation puts a great emphasis on arts and creativity and also that it has a vision and tries to think in a system. I sincerely hope that many volunteers from the Jewish University will work together with the You Belong! and that we'll be partners for our practical field training too. We would like to strengthen our relationship with the foundation and we are thinking in long term, deeper cooperation. I would like to thank them very much for coming here! We learned a lot, me personally, and also the students. This was visible because we were swimming in questions and personal requests. Hungary needs a hundred more foundations like this!